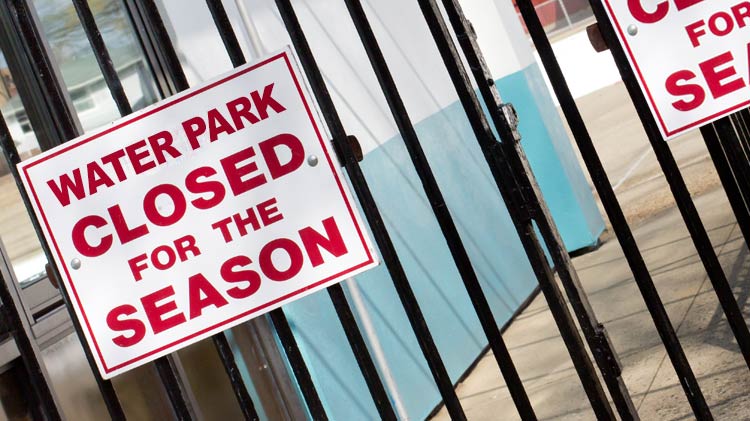 Water Park to Close for the Summer 2018 Season
Leak Repair Prompts Fort Knox Water Park to Close for the Summer 2018 Season
FORT KNOX, KY (7 May, 2018) – The Fort Knox Water Park, located at 5539 Chaffee Avenue, will be closed for the 2018 summer season, while a severe leak is repaired. The Directorate of Family and Morale, Welfare and Recreation (DFMWR) and the Directorate of Public Works (DPW) identified the leak in February, and engaged the Army Corps of Engineers (ACOE), to explore corrective options. Based on their recommendations, the Water Park will remain closed this summer while extensive repairs are completed.
While the Water Park is being repaired, Anderson Aquatics Center, located on Fort Knox at 7962 Wilson Road will be available for recreational swimming. The Anderson Aquatics Center is home to an indoor, heated, Olympic-sized pool, diving board, 50-foot tube water slide, rock wall and indoor spray park. It also includes Splash Town Outdoor Spray Park, Tiki Hut Snack Bar and a patio with ample space for snacking and sunbathing. Anderson Aquatics Center also has a private party room and fitness center. This summer, starting Memorial Day weekend, the outdoor amenities at Anderson Aquatics Center will open early at 11 a.m. daily, to accommodate more time to enjoy the warm weather and the indoor features will open at 1 p.m. on weekdays and 11 a.m. on weekends and holidays. Affordable three- and 12-month passes are available, or Families can purchase 10-visit punch cards or daily admission passes. Visit Anderson Aquatics Center for details and updates.
Aquatics Pass Refund Policy - Due to closure of Water Park
MWR will give a three month extension on 12 Month Passes purchased after September 1, 2017.
Customers wishing to continue using Anderson Aquatic Center, MWR will refund the difference in the temporary discounted rate for a 12 month season pass purchased after September 1, 2017 or a valid 3 month pass purchased prior to May 10, 2018.
Customers wishing to turn in their 12 month season pass purchased after Sept 1, 2017 or their valid 3 month pass purchased prior to May 10, 2018, MWR will refund the pro-rated remaining balance.
---
Refund policy effective May 14, 2018.
Temporary discounted rates effective May 11, 2018.
Refunds must be requested at Anderson Aquatic Center, 8 a.m. - 5 p.m. Monday-Friday.
Valid pass required for refund. Expired passes will not be refunded.
---
About Fort Knox Family and MWR: Family and MWR is a network of support and leisure services designed to serve the needs, interests and responsibilities of each individual in the Army community, as well as enhance the quality of their lives. From family, child and youth programs to recreation, sports, entertainment, travel and leisure activities -- Family and MWR employees worldwide strive to deliver the highest quality programs and services at each installation. Family and MWR helps ensure Army readiness by caring for the people who serve and stand ready to defend the nation.