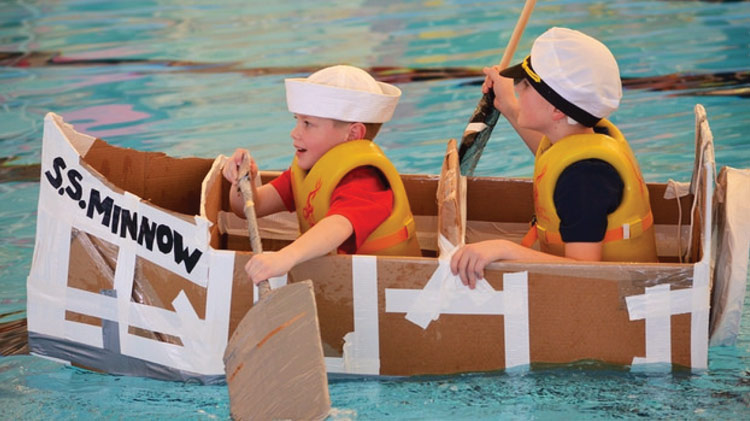 Note: This event has already passed.
Date: Feb 23 2019, 8 a.m. - 11:30 a.m.
Anderson Indoor Aquatics Center - 7962 Wilson Rd Fort Knox 40121 Google Map
Test your skills and abilities on how to build a boat out of CARDBOARD AND DUCT TAPE ONLY.
Will it float is the question? Will your design be the most creative?
Sign up for this fun family-friendly, team building event and find out.
Check-in: 8 a.m.
Safety Brief: 8:30 a.m.
Boat Races begin at: 9 a.m.
Official Rules
Only the items listed above may be used to build boats. Cardboard tubes are permitted, but cannot have wood used to cap the ends. No pre-treated or waxed cardboard is permitted.
Only colored duck tape can be used to decorate your boat. Use of paint, stickers, etc. will result is disqualification.
No wrapping in tape, however, tape may be used to reinforce the bottom of your boat.
You must build your own oar / paddle; may only be used to propel the boat. Oars Must be made of cardboard .
Each participant must wear a bathing suit/ shorts and PFD (Personal Floatation Device) at all times when in or on the water.
Each boat must carry at least two team members.
All boats must be built ahead of time and pass inspection prior to racing.
Team members who start the race must finish the race without leaving the interior of the boat. If a team member exits the boat for any reason during the race, the team will be disqualified.
When a boat is finished with the race, the team must remove the boat and any leftover cardboard debris from the water area and dispose of it at the designated trash area.
Teams are not allowed to sabotage anyone else's boat. Any rough housing in the water will lead to disqualification.
Judging will be based on completing the race and the time.
Staff will inspect boats as they come into the facility.
Awards
Captains Award (Speed Award): For the team who completes the course in the fastest amount of time.
Titanic Award: For the most dramatic sinking and best effort not to sink.
Team Spirit Award: For the best design and creativity, including boat & crew.
Build-Your-Boat Workshops
Get a head start on building your boat at these free Build-Your-Boat workshops Barr Memorial Library on the follow days:
February 7 from 5:30 to 7 p.m.
February 12 from 5:30 to 7 p.m.
February 21 from 5:30 to 7 p.m.
Registration Info
Open to everyone
Teams must consist of at least 2 people
Register online NLT February 22
More info: (502) 624-1413 or (502) 624-6217
Contact