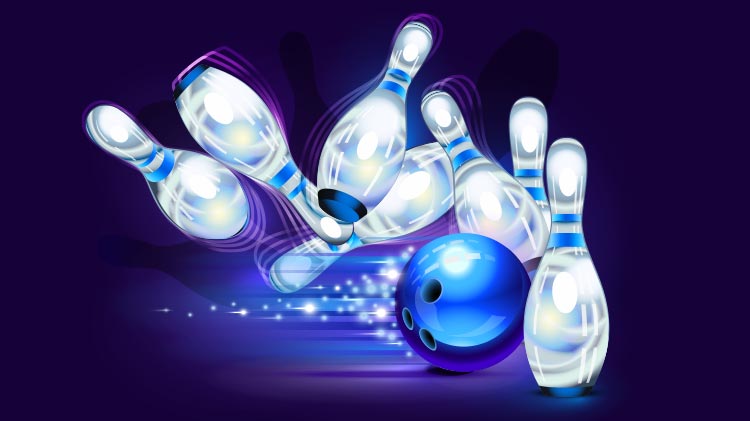 March Madness Bowling Tournament
Note: This event has already passed.
Date: Mar 16 2019, 4 p.m.
Houston Bowling Center - 2385 Knox St Fort Knox 40121 Google Map
Single Elimination with Handicap
Payout: Top 8 Places
Qualification Round - March 16 at 4 p.m.
Elimination Round - March 17 at 10 a.m.
---
Official Rules:
Access to Fort Knox: To access Fort Knox, you must have a valid driver's license or Identification card. If you have never been to Fort Knox, or not sure if you have been vetted to enter Fort Knox, you must go to the Visitor Center at Chaffee Gate near the Gold Vault. Have Identification and car registration and insurance available for the desk at the visitor center as you may need all forms to enter Fort Knox. Give yourself ample time (possible 2 hours before tournament time for first time entrance) to go through Visitor Center. If possible, visit the Visitor Center prior to tournament dates to allow easier access to Fort Knox on days of tournament.
Rules: USBC rules will apply to this tournament. This is a sanctioned tournament.
Eligibility: This tournament is open to all adult members of the United States Bowling Congress. USBC Rules and Regulations will govern this tournament. Entrants must have a current USBC card or purchase membership at the tournament site.
Entry Fees: No registration form will be accepted without entry fee. Refunds will not be available once entry fee is paid. All Fees go towards lineage and prize fund.
Averages: A bowler will use his previous 2018 season's highest book average of 21 games or more. If bowler has no previous season book average, the bowler shall use the highest current league average. Current league averages must be proven from latest Current league standing sheet, to be accompanied by Registration form. If no book average or current league average can be verified, bowler will use a 210 average and receive no handicap. If bowler's average is from a sport league, average will be adjusted according to Average Adjustment Chart from USBC.
Ten Pin Rule: If your current league average is 10 pins higher than your current year's book average, your current league average will be used for handicap purposes.
Handicap: The handicap for this tournament will be 90% the difference between the bowler's average and 210. A minimum average of 125 will be used for handicap purposes.
Tardiness: Any bowler not present at start time on Saturday Qualifiers has until the end of the 4th frame of all bowlers on the pair of lanes to show up. If bowler arrives at the start of the 5th frame, that bowler will receive a 0 for the first game. They may enter the series after the first game is bowled then. Any bowler not present at start time on Sunday for their first round of bowling will receive a 0 score for every frame they miss. A tardy bowler can enter the game at the time of arrival, no matter what frame opponent is in.
Prize Reporting: for this tournament, any winnings of $600 or more, to include prize money and and brackets and pots money, will need a 1099-MISC form filled out.
Prizes: Prizes will be awarded to the top 8 bowlers. Prize money will be returned 100%. Top 6 places awarded cash, 7th place awarded Mid-Performance ball and 8th place awarded 3 ball Storm Streamline bag from Houston Pro Shop (Valued up to $150 each)
Places: Placing for the top 8 will be based on scores with handicap. Placing for 5th through 8th are the losing scores of the Elite 8 games, 3rd and 4th are the losing scores of the Final 4, and 1st and 2nd are based on the Championship match.
Ties: In the event of a tie between bowlers on Bracket matches, the 10th frame will be removed and bowlers will bowl 10th frame over pin for pin until a winner is decided.
Management: Tournament Director will have the right to resolve all questions and disputes concerning tournament play. All decisions made by Tournament Director will be final.
Registration Info
Register in person at Houston Bowling Center.
Contact